HOW DOES A HYBRID AND CROSS-PLATFORM FRAMEWORK WORKS?
Hybrid Mobile app development makes work quite simple for the web designers and developers as it is smooth and simple to create and build a single app which executes proficiently on various platforms and frameworks, that are iOS, Android and windows with no excess and additional effort. Also, there are various advantages of the Hybrid app which includes low -cost and low-price development, approach to a broad range of various hardware/software efficiency and possibility. So, it becomes a cost-effective investment for the people.
The most critical element of this whole procedure is you need good-quality and modern mobile app framework to build hybrid applications. So, you have to choose mobile framework carefully and logically. So, now let us take a look at the best hybrid Mobile app Frameworks in 2019 on the basis of components, services, features, benefits and user experience:
ADVANTAGES OF HYBRID DEVELOPMENT
Lesser efforts.
Results certainty.
Decrease in costs
Time security.
Allows and authorizes fast launching.
Demands and needs the key level of knowledge about standard languages because the remaining tasks and projects will be checked and noticed by using the progress and development tools.
Offers near-native practicality and value.
HOW TO CHOOSE THE BEST HYBRID MOBILE APP FRAMEWORK AND HOW THEY WORK BEST?
While selecting the most relevant and suitable solution for hybrid development, Take the following factors into consideration:
If you have a small-scale business or large-scale business if your company is on a small-scale, you can choose Ionic or Framework 7. However, for large-scale companies Sencha, Xamarin and other hybrid app development frameworks can also be used.
How much high-tech ability and expertise developers have Counting on the growth and advancement ability and expertise, if the developers don't have a great amount of high-technical expertise then Ionic would be the best framework to be used from the rest.
What type of solutions are you trying to get as a clear outcome if you want to develop applications that are adaptable and suitable with all devices or you want to develop a great app, and then hybrid app development tools are the best.
Some of the Hybrid mobile app development tools used worldwide and in many businesses:
PhoneGap (Apache Cordova)
Ionic Framework
Sencha Touch 2
jQuery Mobile.
Adobe AIR
Kendo U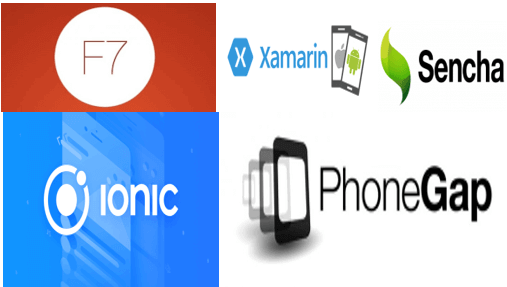 CROSS-PLATFORM APP DEVELOPMENT
Cross-platform frameworks implement developers with a full set of developed tools designed to boost up effectiveness and efficiency by clearing up ordinary and everyday problems. The main question here is which framework is the best for you? To guide you on answering this question, we have come up with a variety of cross-platform frameworks for mobile development.
With more than a million applications on Google Play, the Android network and its system overpowers the mobile developing network. Individuals, small businesses, and large businesses work hard to set up an active and powerful mobile presence and seize their share and part of the market. Hence, not many people have the skills and resources needed to develop and design an app from the bottom using native development tools.
BENEFITS OF CROSS-PLATFORM MOBILE
Codes can be used again.
Lower Costs.
Fast development time.
Simple Implementation.
Sameness and Uniformity.
HOW DO I CHOOSE THE RIGHT CROSS-PLATFORM FRAMEWORK FOR MOBILE APP DEVELOPMENT?
Cross-platform development tools can keep you from saving a lot of time during your development cycle and assist and guide you to approach a larger number of audiences by displaying your app on various channels and platforms using the slightest amount of resources. They are definitely not ideal, but however, they will never become an alternative or a replacement for native app development. There will definitely be trade settlements, but you won't be successful in all of these settlements. Even when deciding to develop your app using a cross-platform platform development tool, you are up against so many different tools and frameworks that it can be difficult to choose on which one you want to go with.
The simplest way to plan and make a choice on the cross-platform development platform that is suitable for you would be to give them all a try and go with the one that works best for you. If you don't have enough time, which will definitely be the case, a little exploration and investigation on some of the top cross-platform development frameworks can be enough to help you make the right choice for yourself. Research the pros and cons of each one to have a better understanding, see which one suits your requirement and take into consideration the fact that you will have to deal with the good, the bad, and the ugly to figure out what you need to choose at the ending process.
Some of the Cross-platform mobile app development tools used worldwide and in many businesses:
React Native
Xamarin
Apache Cordova
Ionic
Adobe PhoneGap
Titanium
Framework7
Apache Weex
Flutter
Native Script
Jasonette
ManifoldJS
To conclude, Android and iOS are the key platforms for mobile app development. If you choose or decide to go for a native mobile app development approach, you will need to write distinctive codes for both the platforms. This is one of the reasons why cross-platform development achieved much more fame and demand in the mobile industry because it saves time and effort when building up an app. Hybrid app development frameworks such as Ionic, Xamarin from Microsoft and Flutter from Google have become progressively and gradually accepted and well received by the public and their use will be enhanced and accelerated in 2019 and so on.